I built a new thing, it's called Holler Box.
It's a WordPress plugin I built for myself, because I wanted a better way to communicate with my site visitors. For example, I did a webinar a couple weeks ago, and I was trying to figure out how to announce it to people on my website so they could register.
I'm a developer, and even adding a simple banner or popup to my site is not easy. I have to write the code, test locally, push to staging, test there, then push to production and do a final test. When I want to remove the message, I have to reverse the process. I'm busy, and that takes time.
I looked at other options, like complex popup plugins, but that was totally overkill for what I needed. I could add a banner or a blog post, but what I really wanted was to create a subtle notification quickly, and then move on to other tasks.
I didn't know a good way to do it, so I created Holler Box.
What is Holler Box?
It's a smart, non-intrusive notification box to help you convert more visitors into customers.
Announce a webinar, collect email optins, show sale notifications, (fake) live chat with email capture, forms, and lots more.
Choose where and when you show it, and to which visitors. For example, show your sale announcement only on the pricing page to returning visitors. Show your email optin only on your blog posts.
It's fully customizable and you can put just about anything you want in it.
Personalization
Personalization filters are really important, because I don't want to show everyone the same thing. I want to show potential customers one thing, and first time visitors something totally different. My checkout page should not show the same message as my blog page.
For example, I want to show an invitation to a webinar to a first time visitor, or an email opt-in. If someone else is a returning visitor on my pricing page, I can show them a notification that someone just purchased, or ask if they have any questions.
I also want to track how well those messages are doing, so I can optimize and improve them over time. All that and make it beautifully designed and easy to use.
Examples
There's a Holler Box on this page at the bottom right, you can also see examples at the Holler Box website.
Simple message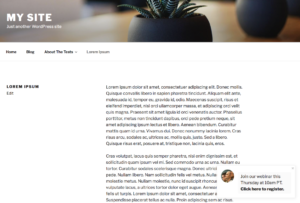 Email opt-in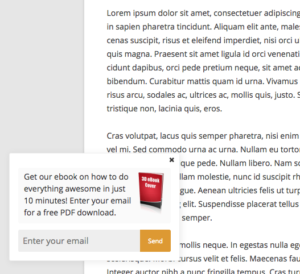 Sale notifications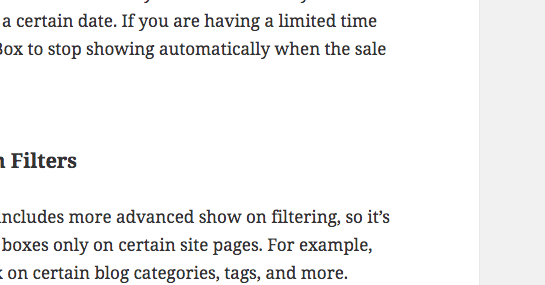 Faux Live Chat
Why not real live chat? I've used several live chat providers, and I hate it. It's distracting, time-consuming, and customers use it for technical support even if you explicitly tell them not to. I just want a way to capture emails so I can follow up with customers later. Faux chat FTW!
You can put whatever you want in the notification, including video, your latest blog post, a feedback form, and lots more.
I think this would work great for membership sites, to show members only messages to logged in users, then a different message for potential new members. The possibilities are endless.
How much is it?
You can download it free on WordPress.org here.
There will be a Pro version out very soon that includes the Holler Banner, better filtering, automatic message deactivation, more conversion data, support, and more. That will be announced soon on the Holler Box website.
Sign up for our email list if you'd like to be notified about Holler Box updates.
Don't forget to give Holler Box a 5 star rating!